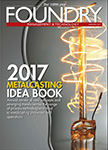 3D Animation and Virtual Reality for Better Planning, Better Foundries
Barb Castilano, President of Marketing Options was featured in the January 2017 issue of Foundry Management & Technology Magazine. Her article discusses bringing more effective visualization to the initial product development stage is happening now and is pretty exciting news — especially for foundries and suppliers to the foundry industry.
Click here to view the article.